Unearth
Through this new body of work, Juju Roche investigate the natural world and the tension around how people experience and respond to it. By leaving the large scale paintings exposed to the wind, sun and rain; both the canvas and medium are left vulnerable to the natural environment. After the intrusion of mist, rain, sunlight and debris the residual forms become imprinted on the canvases and they retain the physical qualities of the environment. Through this process Roche surrender aesthetic control over the outcome, inviting the viewer to consider humanity's innate desire to control Mother Nature. Her creative process further aims to challenge the audiences' concept of creation and, of equal significance, destruction – a fundamental struggle we all experience.
This series is patterned with subtle line motifs and mark-making that aims to challenge our notion of beauty and prompt our perceptions to evolve.
'In creating these landscapes my intention is to draw the viewer into a deeper space, and, with more focused observation, experience and realise the abstract and obscure.' Juju Roche, 2019.
Studio shot in repurposed studio
Shadow Hill Tops And Floating Gums
2019, oil, mixed media on canvas, 165 x 165 cm
The Good Season Jungle Drum
2019, oil, mixed media on canvas, 165 x 165 cm
Blushing Confidence
2019, oil, mixed media on canvas, 165 x 165 cm
Emerald Night And Starry Reflection
2019, oil, mixed media on canvas, 165 x 165 cm
Dewdrop And Motif
2019, oil, mixed media on canvas, 165 x 165 cm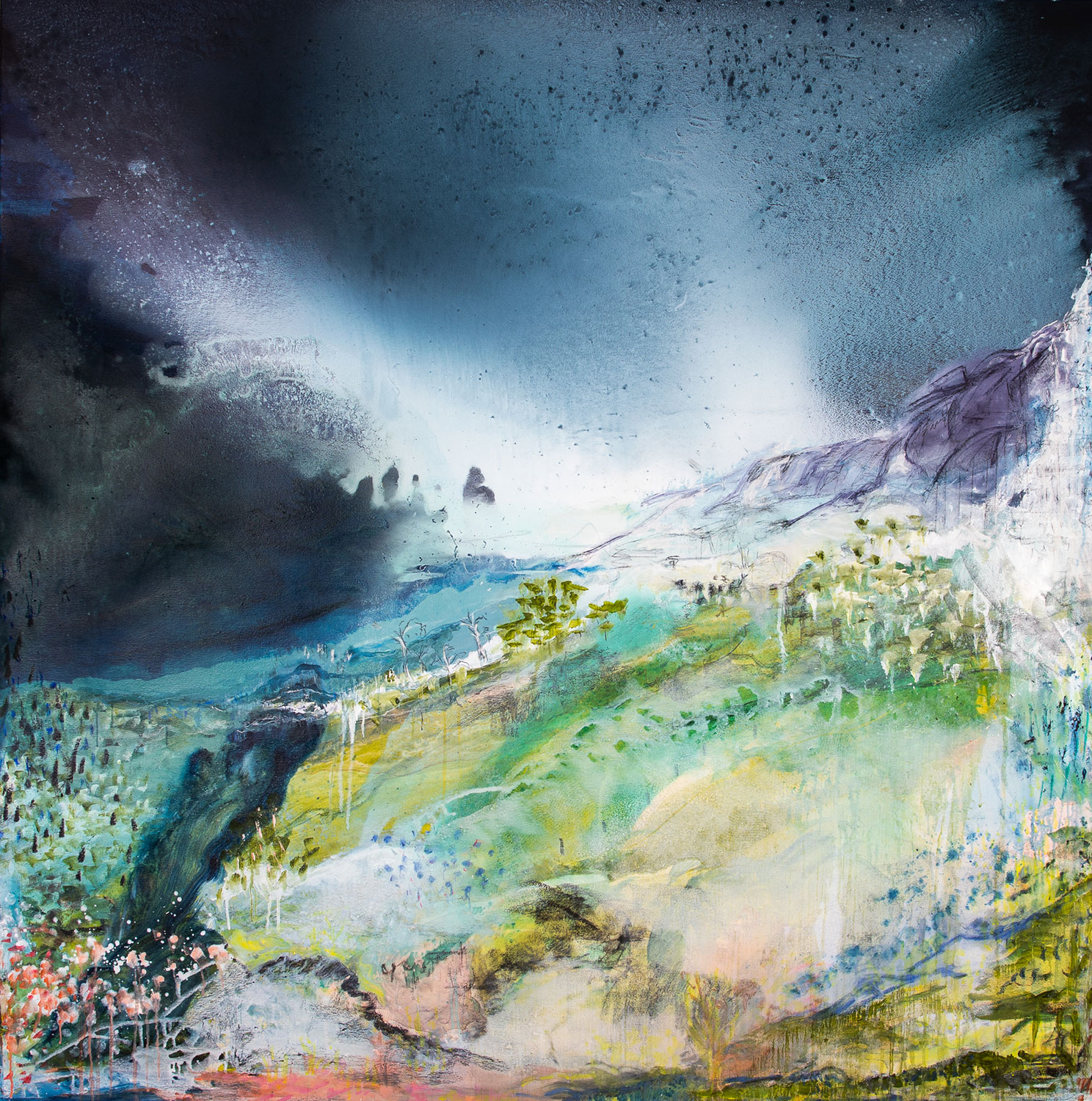 Mountains O'Things
2019, oil, mixed media on canvas, 165 x 165 cm
Artworks in the elements
Still from time lapse. Photo c/o Jeremy Kruckel
Dancing With Your Midnight Ghost
2019, oil, mixed media on canvas, 165 x 165 cm
Shadowlands
2019, oil, mixed media on canvas, 165 x 165 cm
Subtle Swoops
2019, oil, mixed media on canvas, 165 x 165 cm
Falling High
2019, oil, mixed media on canvas, 165 x 165 cm
Motion shot - Falling High
Motion shot and Artwork photography c/o Jackie Cooper
Lighter Vibe on a Warm Eve
2019, oil, mixed media on canvas, 165 x 165 cm
Nervous Energy
2019, oil, mixed media on canvas, 165 x 165 cm
Beneath The Burning Sun
2019, oil, mixed media on canvas, 165 x 165 cm
Finding Detail At Dusk
2019, oil, mixed media on canvas, 165 x 165 cm
Impressionist Interpretation + Moon And Dust [series]
2019, oil, mixed media on canvas, 50 x 50 cm [each canvas]
Impressionist Interpretation: The Land I
2019, oil, mixed media on canvas, 50 x 50 cm
Impressionist Interpretation: The Land II
2019, oil, mixed media on canvas, 50 x 50 cm
Impressionist Interpretation: The Land III
2019, oil, mixed media on canvas, 50 x 50 cm
Moon And Dust I
2019, oil, mixed media on canvas, 50 x 50 cm
Moon And Dust II
2019, oil, mixed media on canvas, 50 x 50 cm
Moon And Dust III
2019, oil, mixed media on canvas, 50 x 50 cm
Smokey Gums Under Blanket Blue [series]
2019, oil, mixed media on canvas, 50 x 50 cm [each canvas]
Smokey Gums Under Blanket Blue I
2019, oil, mixed media on canvas, 50 x 50 cm
Smokey Gums Under Blanket Blue II
2019, oil, mixed media on canvas, 50 x 50 cm
Smokey Gums Under Blanket Blue III
2019, oil, mixed media on canvas, 50 x 50 cm
From Afar; The Rock Rubix's
2019, oil on canvas, 150 x 150 cm (nine panel artwork. each canvas 50 x 50 cm)
Midnight Star Study From Shed Door I
2019, oil, mixed media on cotton rag, 56 x 76 cm
Midnight Star Study From Shed Door II
2019, oil, mixed media on cotton rag, 56 x 76 cm
Colour Of The Night I
2019, oil, mixed media on cotton rag, 56 x 76 cm
Colour Of The Night II
2019, oil, mixed media on cotton rag, 56 x 76 cm
Primed From Behind Panoramic Oil Study
2019, oil on canvas, 50 x 300 cm [six panel artwork. each canvas 50 x 50 cm]